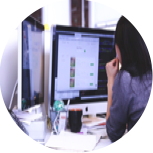 WELCOME TO MY-BACKGROUND-CHECK
How it Works...
Click the link to the respective background check that you are seeking. You can pay via credit card; provide an authorization/disclosure; and enter your personal details into our secure locked down system.
Information Provided...
The report will go into processing and in 1-3 business days you will receive a secure link where you can view, print, or save your reporting results.
Expertise...
Accufax is the engine that drives the My-Background-Check process and is of the largest providers of background reports to corporations, churches, and non-profit groups in the nation.